Welcome to Class Two!!
Welcome back to the new summer term! I hope that you have all enjoyed a lovely spring break with lots of fun, family times! I'm really looking forward to hearing all about the experiences the children have had! It's hard to believe that we are into the last term of the academic year; what an eventful two terms we have had! The children have been absolutely brilliant: just getting on with things and showing tremendous resilience!!
SummerTerm One
As always, on this page you will find lots of information, events and news about the class, our topics and most importantly the wonderful work we produce! You will also find important information about our daily routines, homework and dates for your diaries. Don't forget to follow us on Twitter where I will keep you updated with photographs of your child's wonderful work and other activities.
I will be teaching the children each day apart from Wednesday morning when Mrs Mawrey will teach the children Science and PE. Every other Wednesday afternoon, Mrs Robinson will teach the children a foundation subject. Forest School sessions will take place once a fortnight starting on Tuesday 27th April; please remember to send the children into school in appropriate clothing on those days and PE kits on Wednesdays and Fridays.
We are fortunate to have two Chester University students working with the children in Class Two this term. More information will follow.
If you have any concerns, questions or worries please leave a message via email or phone and I will get back to you as soon as possible.
Warmest Regards,
Mrs King and Mrs Mawrey
Our Theme for the Beginning of this Term is...
Seas and Oceans
How and Why have our Seas and Oceans Changed?
Our class theme this half term is very much geography based. We will learn about the seas and oceans around the world, including the seas around the British Isles. We will gain an understanding of the different environments that these represent and how they affect life on land as well as at sea. We will develop our geographical skills to build up our knowledge of food chains, exploration and evolution. We will also look at the impact of global warming, climate change and how over-fishing of our seas has changed the environments in and around our seas and oceans.
Important People we will Research through our Theme
As Geographers...we will learn about:
The seas and oceans around the United Kingdom (North Sea, Irish Sea, English Channel and Atlantic Ocean.

The 4 constituent nations of the UK (England, Scotland, Wales and Northern Ireland).

The oceans around the world (Pacific, Atlantic, Indian, Southern, Artic)

The 7 continents (Europe, Asia, Africa, Oceania, North America, South America and Antartica).
As Writers...we will write non-chronological reports about the seas and oceans and what lies beneath. We will also write persuasive letters to protect our seas and oceans.
As Readers...we will be exploring lots of different texts that will link in beautifully with our 'Seas and Oceans' theme.
As Mathematicians...our main focus will be on Fractions and Measure, including Time. There will also be a focus on the consolidation of prior learning, especially during lockdown. Please continue to use TT Rockstars to practise your 2, 3, 5 and 10 times tables at home.
As Scientists...we will be focusing on plants this half term.
As Artists and Creators...we will replicate sea images the artist JMW Turner. We will also create collages of ocean creatures.
As Musicians...we will be learning traditional sea shanty songs. We will also continue our fabulous ukulele lessons with Dan from Create Music.
Reading and Phonics
During the week, all children will take part in individual and whole class reading sessions Within these sessions we read a variety of extracts and chapters from stories, poems or non-fiction texts. These sessions aim to develop word recognition, inference skills, comprehension of texts and fluency/understanding of the texts we read.
Phonics will continue to be taught daily embedding the phases and filling in any gaps in your child's phonics knowledge. We will be using the Letters and Sounds programme.
There are also opportunities for the children to develop their love of reading during quiet reading sessions
In KS1 we strongly encourage parents/guardians to read with your child at least 3 times a week and record a short comment in your child''s reading diary about that reading session. As explained in my recent letter, we are only able to change books twice a week at present due to Covid restrictions and the time needed to quarantine books.
PE
This half term, our PE sessions will take place on Wednesday and Friday. Forest School will take place every other Tuesday afternoon beginning Tuesday 27th April. Please note that on the days of PE and Forest School sessions, children may come into school wearing their PE kits and Forest School clothing. Please remember to send suitable footwear into school for Forest School.
Our focus in PE this half term will concentrate on gymnastics. Mr Finney from Weaverham High School will teach the children each Friday. Please ensure that your child has the relevant kit for their PE sessions..
Year 2 Common Exception Word List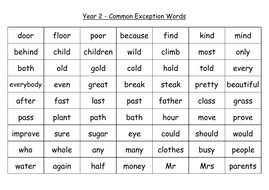 Homework
Homework will continue to be set online. The children have their usernames and passwords for Spelling Shed and TT Rock Stars to log in. Please let me know if you are experiencing any problems with logging in.