Welcome to Year Three! Welcome to Year Three! Welcome to Year Three! Welcome to Year Three!
Welcome back to another term!
I hope that you have all had a wonderful Christmas break, making as many festive memories as possible and you are ready for another term in Year Three. I am so pleased with all that you have achieved during our first full term together and your positivity and enthusiasm blew me away - here's to another fun-filled term! :)
This term my PPA will be covered on a Thursday afternoon by Mrs Tomlinson and she is so excited to be teaching you. Our PE sessions are on a Tuesday and Thursday and we have our forest session every other week on a Friday, don't forget to come to school in your pe kit or forest clothes on those days! In addition to this, please remember to bring in a spare change of shoes for forest school sessions, our outdoor area is understandable a little muddier than usual due to our current weather.
For the next 10 weeks I will also be joined in class by Miss Bates:
"I would like to take this opportunity to introduce myself! My name is Miss Bates and I am a third-year primary trainee at Edge Hill University. For the next 10 school weeks until February half term), I will be working with your children alongside Miss Rochell-Gill. During this time, do not hesitate to approach me about any concerns/queries you may have and I will do my best to help. I hope to see you during meet-and-greet. I'm really looking forward to working with your children during this time."
You can follow our learning journey via our school twitter account, @LittleLeighSch, where I will post updates and pictures.
If you need to discuss anything with me, please don't hesitate to contact the school admin team via email who will be more than happy to pass your message on.
Miss Rochell-Gill, Mrs Tomlinson and Miss Bates
To begin with, we will continue to develop our knowledge of how life changed in Britain throughout the Bronze and Iron Ages. We will continue to make comparisons to how land was utilised, how technology/inventions advanced and how these impacted life for Britons at that time.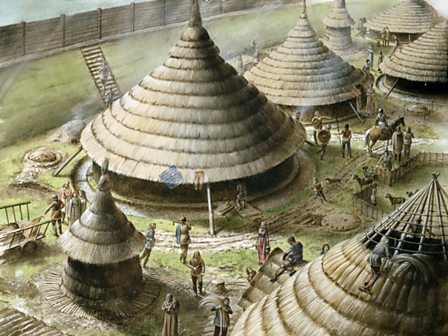 ---
We will then move onto our brand new theme...
'Why do so many people choose to holiday in Sicily compared to Northwich?'
Throughout this geographical theme we will focus on identifying and comparing the location and climate of Italy and the United Kingdom before looking more closely at Sicily and Northwich. We'll explore the physical and human features that make Sicily such a popular holiday destination and research Italy's history and culture amongst many other interesting aspects. This theme will provide lots of exciting opportunities to develop our geographical skills including mapping, coordinate reading, understanding the 8 points of a compass and applying those within our activities.
As Artists and Designers... we will study the work of the fantastic British artist and sculptor, Barbara Hepworth. Barbara was hugely influential throughout her career which spanned over five decades. Her work was often inspired by nature and the natural forms that surrounded her. Her art and sculptures were known to express the way humans interact, respond and are affected by natural landscapes. She wanted her sculptures to 'frame' nature and alter how people view the landscapes.
As Writers...we will explore and enjoy a brand new text. This particular text is one of my absolute favourites and it opens up so many valuable opportunities for thought-provoking discussions and debates.
Without giving away too much of the plot and magic of the text, we will use it as inspiration to write our own 'return' stories.
"This visually stunning picturebook tells a culturally important real story in a highly stimulating manner. This will generate lots of discussion about difference and belonging."
Inspired by the life of Jemmy Button – a native of Tierra del Fuego who was brought to England in the mid-1800s to be 'educated' and 'civilised' by Captain Robert FitzRoy – this book illustrates Jemmy's bizarre encounters and his return back home.
There will also be plenty of cross-curricular writing opportunities within our theme.
As Mathematicians...to begin with, we will consolidate our mental methods of addition and subtraction taking the opportunity to further develop our problem-solving skills. We will then move onto multiplication and division, securing our recall of times tables and learning how to use formal methods to solve calculations and problems
As a class we will be recapping and practising our times tables through a variety of formats, the most popular often being through songs. We enjoy watching and singing along to times tables songs online too, please find some of our favourites linked below:
Mr Demaio 3 x song Skip count by 4 Mr Demaio 8 x song
Hit the Button is also another fantastic online resource that aims to build confidence in multiplication and division recall.
As Scientists...we will be exploring Forces and Magnets! Within this unit of work our scientists will compare how things move on different surfaces, understand how magnets attract/repel each other and other materials and carry out a number of experiments to support classification and comparisons.
Guided Reading
During the week, all children take part in guided reading sessions both as a whole class and individually. Within these sessions we read a variety of extracts, chapters from stories and often work on our inference skills using video clips and images. These sessions aim to develop inference skills, comprehension of texts and fluency/understanding of the texts we read.
In KS2 we strongly encourage parents/guardians to read 2-3 times a week and record a short comment in thier child''s reading diary about that reading session.
PE Lessons
This half term our PE sessions will take place on a Tuesday and Thursday with forest sessions every other week on a Friday.
During the winter months, it is advisable for the children to wear warm clothes such as tracksuit bottoms as sessions will continue outside where possible.
Homework
Homework will now be set every Friday to be completed by the following Friday. Both times tables and spelling practise will be set each week on our new platforms; Times Tables Rockstars and Spelling Shed. We encourage children to practise their set tasks at least three times a week alongside regular home reading.
If you have any issues regarding the homework set then please contact me via the message book or at the door and I will do my best to resolve the issue.