Helllo again to all of my lovely class and parents, and a big welcome to our new family.
We have a very exciting year ahead of us with many adventures to look forward to; great topics, visits, Christmas play, residential and our epic end of year perfomance!
Obviously, Year 6 is a very important year for your children as we prepare them for their onward journey to High School. If you have any concerns or questions at all, about anything, please pop in and see me.
Mrs Clarke
Please click here to view this year's curriculum map!
---
Autumn Term
History
Our new topic was chosen by the children before we broke up for the summer: Ancient China.
We will discover key information about the formation of the Shang Dynasty and the kings who ruled it. Learn all about everyday life, the music, cities and settlements, and the process of worship in this early civilisation. The importance of warfare, advanced technology, and the development of writing will all be investigated and the children will have the chance to meet a number of exciting creative outcomes!
Writing
This topic will provide many exciting stimuli for writing, for example, the Great Wall of China, the Shang Dynasty,, terracotta warriors, Chinese food and Giant Pandas. The children will have opportunities for writing a wide range of genres, such as:
fantasy narratives
newspaper reports
advertisements
non-chonological reports
instructions
fact files
Science
Mrs Tomlinson will continue to teach the science curriculum this term, with the first topic of 'Light'
The children will learn about how we see, shadows, reflection and refraction; how light travels and how this enables us to see objects. The children will have the opportunity to make a functioning periscope, finding out about mirrors and the angles of reflection and incidence. They will work scientifically and collaboratively to investigate refraction, carrying out some fascinating experiments into the effects of bending light. Furthermore, they will have chance to predict what will happen in an exciting investigation into the visible spectrum. They will work in a hands-on way to explore how light creates the colours we see, designing coded messages. Finally, they will learn about Isaac Newton and his theory of light and colour, performing a shadow puppet play about his discoveries and ideas.
Art and Design
As we have such a creative bunch, I have lots of plans for our creative curriculum this term! Here is just a snapsho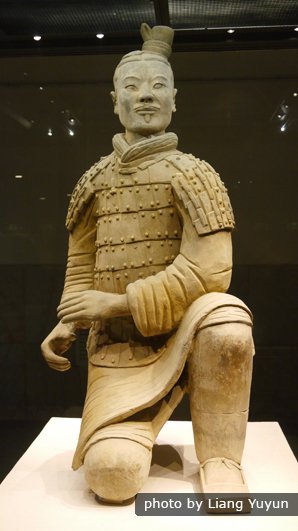 t:
We will research the history of the Terracotta army and hopefully have the opportunity to see genuine statues at the Liverpool World Museum. This will then inform the designs of our very own warriors using clay.
We will aso research the history of Chinese opera masks, then create our own designs.
Reading
Our focus this term, rather than being on a particular author, is on fantasy texts. We will be looking at several stories in order to inspire our own writing.l

We are lucky to have lots of fabulous new books in our Year 6 library; the children have all been very excited to borrow some that have caught their eyes! I cannot over emphasize the difference reading makes to a child's writing; a good book can provide them with ideas and vocabulary that feeds their imaginations and written work.
Guided Reading
Each week the children take part in a focused guided reading session with the class teacher. We will work together in this session to read extracts of text and develop our deduction and inference skills through specific and targeted questions. In Key Stage Two, we encourage parents to continue to read with their children regularly and write comments in you child's reading diary. I also encourage the children to write full comments about what they are reading.
P.E. Lessons
Two P.E. sessions take place throughout the week in Year Six. this This half term, P.E. lessons will take place each Tuesday morning and then alternate between Thursday mornings and Friday afternoons. However, due to occasional timetable changes these lessons may alter. Therefore, please ensure that your child brings their P.E. kit with them on Monday morning and they will take them home on Friday afternoon.
During the winter months, it is advisable that children bring with them warmer clothes for outdoor sessions.
Please ensure that all P.E. clothing is labelled clearly, to ensure that all items are returned to the rightful owner!
Homework
Homework is set on a regular basis in Year Six. All children will receive spellings and either a English or Mathematics homework each week. The homework will outline clearly when the homework has been set and the homework task. Homework and spellings are handed out every Friday afternoon and are to be returned the following Friday.
Just like last year, I will set a creative piece of homework each half term. The length of time for each piece may vary, and the children will be told how long they have for each task.
I will ask the children to hand in their new diaries on a Thursday so that I can follow what they've been reading at home.